Windbreak Netting
Windbreak netting is made of knitted plastic mesh, it is used for protecting the growth of plants or crops from been destroyed by winds. This wind net has been widely used in agricultural industry.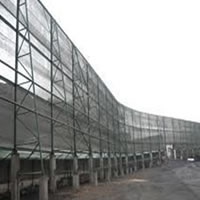 Windbreak net is the ultimate knitted windproof plastic product. It dramatically reduces wind impact speed to protect crops and plants by protecting from wind damage, reducing water loss, soil erosion, windborne diseases and heat loss.
Knitted plastic windbreak netting is available in black, green, blue and other colors, used to protect all greenhouse grown crops. Using of windbreak netting guarantees a low daytime temperature as well as very high energy savings, and keeps the crop temperature close to the ambient temperature during the night.
The knitted structure of the plastic mesh shade cloth allows sufficient water vapour to pass through, preventing condensation drops to form on the underside of the screen. The flexible structure also allows the screen to be folded into a very small bundle in an open position, making a maximum light transmission possible.
1.Material: 100% virgin HDPE with UV treated
2.Yarn: monofilament
3.Width:100cm-600cm
4.Length: as required
5.Color: green, or as required
6.Weight: 50-200g/m2
7.Packing: in poly bag with a label
8.Eyelet available